Mobile phone usage in India continues to grow at a staggering rate. From 524.9 million users in 2013 to approximately 813.2 million in 2021, mobile phones have ascended from luxury devices to a non-negotiable utility tool for everyone.
People are no longer reliant on smartphones for just communication, they are using smartphones for storing & accessing their bank accounts, social media and other personal information.
Such high level of dependency warrants the presence of security software that protects your device from prying eyes. Due to the popularity of Android powered devices, we have accumulated and listed the five best antivirus solution for android phones, that your smartphone needs to have.
List of 5 Best Antivirus for Android Devices
Sophos Antivirus for Mobile Security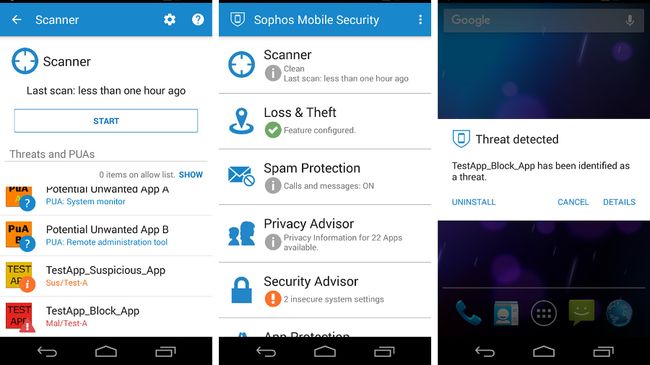 Sophos Mobile Security is an award-winning free security solution that is available for download on Google Play Store. Its protection capabilities ensure that your phone data isn't compromised by hacks or leak.
Sophos scans apps and software updates on your phone to check for malware and other harmful programs. You can schedule regular scans, to keep your phone clean and schedule fixed time for database updates. Sophos delivers on it promise of mobile security, giving complete protection against all fronts- device, internet, Wi-Fi & hotspot.
No Advertisements
Blocks Websites with Spam or Illegal Content
Blocking Capability Flags Websites with the Smallest Issues, Creating Problems Sometime
Contains In-App Purchase
Bitdefender Antivirus Free For Android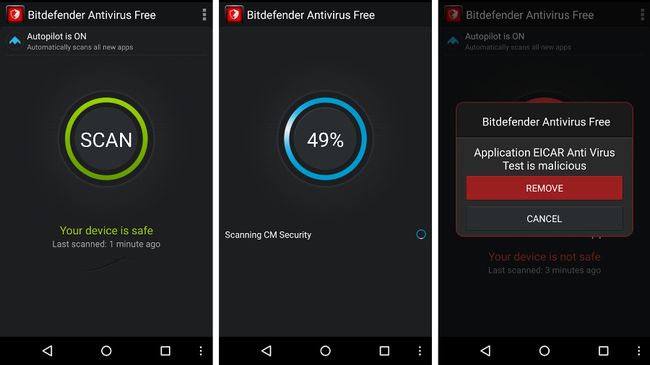 Bitdefender is a highly reputed brand in the security solutions market. Their mobile device security application, Bitdefender Antivirus Free, is a useful antivirus for android devices, as it utilises very little space on your device and unlike other similar apps, doesn't run in the background. This frees up memory & processor space, optimising your device to run efficiently.
Users can manually schedule device scans, to be performed at their convenience. The antivirus software also protects against app leaks, by scanning new and old apps alike. It also comes with a handy privacy advisor tool, which helps you identify best security practices.
Doesn't Clog Processor or Memory
Easy Setup and Usage
Have to Manually Schedule Scans
McAfee Mobile Security & Lock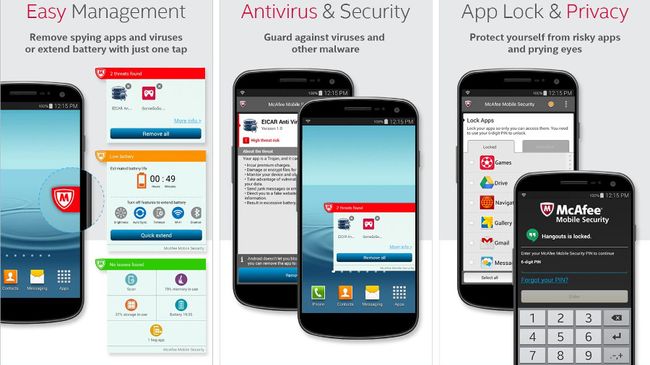 McAfee has been a household name in computer security for the better part of a decade and their reliability translates well into McAfee's mobile security application. McAfee Mobile Security & Lock is a very inclusive antivirus for android, i.e. it combines the best of both antivirus and mobile tracking. Aside from its antivirus feature (which is brilliant, BTW), their app also features a device tracker which can locate stolen devices and even takes a photograph of someone making too many login attempts.
McAfee scans your device to notify of applications and websites that can leak harmful data, and consequently locks and blocks them. You can also use this mobile antivirus to block calls and messages from unwanted businesses.
Anti-Theft Features
Scans & Blocks Apps & Websites with Malicious Content
Kaspersky Internet Security for Android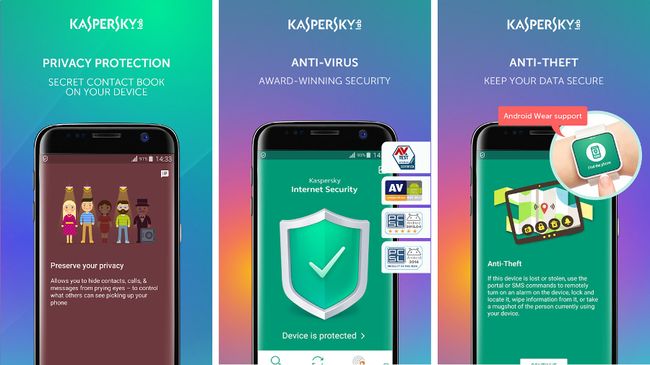 Kaspersky antivirus solutions have been a staple for personal & business use. With Kaspersky Internet Security for Android, the company has managed to provide a solution that mobile users will absolutely adore. Its powerful design ensures that the smallest of threat doesn't pose a threat to your smartphone.
Kaspersky Internet Security prevents you from accessing malicious websites and warns in case you reach a dangerous link. It also extends support to Android Wear, thus providing extensive security management.
9% Malware Detection Rate
Blocks Apps & Websites with Malicious Content
Certain Features Require Users to Purchase In-App
Avira Antivirus Security For Android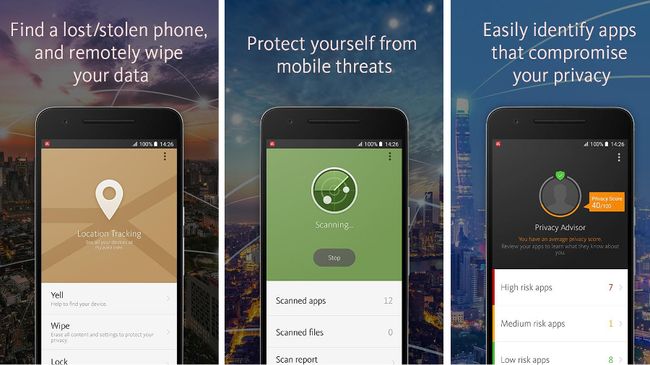 Avira Antivirus Security is an antivirus for android phones, that is comparatively lesser-known than the others on this list. However, don't let that deter you from using this excellently constructed antivirus software. Most of its best features are available on the free version, including the ability to scan external storage devices and display each app's rating on a privacy scale.
It's simple user interface, ensures that everyone, from a layman to a connoisseur, can easily use this antivirus on their phone. It comes with an app permission tracker which lets you control data collection of any app on your phone. There's an added email address scanning feature which informs the user of an email address's status, whether it's safe or if it has been leaked via third-party security breach.
Simple & Intuitive UI
Extensive Security Across Device Functions
Doesn't Block Malicious Webpages
Did our list of the 5 best android antivirus app and software help you in deciding the best solution for your phone? If so, how about letting us know below.
Suggested Read: 10 Best Antivirus with VPN for Device Protection in 2023