Did you just realize that you had deleted or lost some files, somewhere? What to do now? It's evident that all you really want to do when your file/data is gone is to get it back somehow, that too as quickly and as painlessly as possible.
What is Data Recovery Software?
Essentially, data recovery is the process of salvaging or restoring inaccessible, corrupted, or deleted data from a storage device. This is where you need a fully-featured data recovery software.
Data recovery software retrieves your data quickly and easily by reviewing, scanning, identifying, extracting, and copying data. It uses a user-defined location within the storage device or from deleted, formatted, and corrupted sectors.
Types of Data Recovery Software
Several free and paid data recovery software solutions are available that can recover or, so to say, "undelete" your accidentally deleted files.
Also, the files you delete are usually still present on your hard drive, USB drive, smartphone, media card, etc. These files can be easily recovered using reliable and free data recovery software.
Thus, you can conveniently use efficient data recovery software to recover the files you thought you had lost forever.
Which is the Best Free Data Recovery Software?
Use any of these free data recovery tools to recover documents, images, video, music/audio files, and much more.
Recuva
ADRC Data Recovery Tools
Puran File Recovery
Glary Undelete
SoftPerfect File Recovery
Exif Untrasher
Tokiwa Data Recovery
PC Inspector File Recovery
Wise Data Recovery
UndeleteMyFiles Pro
TestDisk
Undelete360
FreeUndelete
CD Recovery Toolbox
Restoration
Lazesoft Recovery Suite Home
WinHex
Pandora Recovery
EaseUS Data Recovery Wizard Free
iCare
Disk Drill
PhotoRec
Stellar Data Recovery Free
MiniTool Power Data Recovery Free
24 Free Data Recovery Software Tools
Let's have a look at the list of the best data recovery software tools to retrieve your files and data.
It is a powerful tool that helps recover data and deleted files from your Windows computer, digital camera card, recycle bin or even your MP3 player.
To get superior file recovery and recover almost anything from documents, music, pictures, emails, videos, Recuva recovers every type of file you've lost.
Key Features
With Greater flexibility, this software can conveniently recover files from damaged and newly formatted drives.
The advanced deep scan mode of this software finds files that are otherwise almost impossible to retrieve.
It supports all Windows versions from XP through Windows 8.1 and has both free as well as paid versions. While Recuva Free can be a great choice for many, Recuva Professional is available for approx. Rs.1400.
---
Another great, free file recovery program, ADRC is an uncomplicated software that can be easily used even by beginners.
Key Features
The software can undelete files from hard drives, memory cards, USB drives, and other non-CD/DVD storage devices.
ADRC Data Recovery Tools is a standalone, 132 KB program that supports Windows XP, 2000, and 95.
The software needs no installation and is works easily from any portable location.
---
The software is apt for recovering deleted and lost files or partitions. Files can be recovered from formatted disks also. It has a simple interface with a powerful recovery engine.
Key Features
Its quick scan facility lists deleted files within seconds that too in a click.
The intelligent deep scan facility scans a drive byte by byte. As a result, you experience a high-speed listing of several other deleted and lost files.
Opt for the software's full scan option to detect lost/ deleted partitions. With this facility, you can even recover files from formatted drives. Physical drives can also be scanned using this software.
---
A great free file recovery software Glary Undelete helps you recover the files that you may have deleted by accident.
Easy-to-use yet powerful file undelete solution it recovers files emptied from the Recycle Bin or the ones deleted by viruses, crashes, and bugs.
Key Features
The software supports NTFS, FAT, NTFS + EFS file systems. Moreover, it also recovers files that the user has fragmented, compressed, or even encrypted on NTFS file system.
This software works well on removable media. This means it not only works well on the internal hard drive but can conveniently perform data recovery on removable disks.
Filter results with Glary Undelete as it automatically sorts files according to the name, size, and creation date of each file.
---
SoftPerfect File Recovery
This free and useful file undelete program eases the process of searching recoverable files.
What's more? It supports popular file systems such as NTFS5, NTFS, and FAT12/16/32 with compression and encryption.
Key Features
This lightweight, 500 KB, standalone file makes the program portable. It runs on anything from Windows XP through Windows 10 and requires no installation.
You can now recover data that was accidentally deleted from hard disks, floppy disks, USB flash drives.
It is important to know that SoftPerfect has 33 interface languages and lets you restore more than one file simultaneously.
---
A powerful, free data recovery software runs on Mac (macOS 10.6 or above), Exif Untrasher is designed to recover deleted or formatted JPEG photos from your digital camera.
Key Features
This lightweight program does not require as much storage space.
Use this software if you want to retrieve lost photos of a removable disk you can mount on your Mac. Thus, bring back pictures from an external drive, SD card, USB stick, etc.
Easy to download and install, it recovers erased pictures in good quality.
---
Tokiwa Data Recovery
A plain and straightforward software to undelete files from FAT32, FAT16, FAT12, and NTFS partitions.
Key Features
With the help of this software, you can also recover EFS encrypted files, NTFS compressed files, and files using a partial filename search string.
This portable software can run from a floppy disk or a USB drive. This user-friendly software also rids you of installation hassles.
Tokiwa's free version can recover 1GB of data. The full version of the software is also available at around Rs.5000.
PC Inspector File Recovery
This data recovery program supports the NTFS and FAT 12/16/32 file systems and is available for free download.
Key Features
Adept at recovering files, the software holds the capacity to save a partition even if its directory listing has been erased.
There's more. You can recover files with the original date and time stamp using this software and save recovered files on your network drives.
Use the PC Inspector to recovers all your files, even when there is no header entry available. Its Special Recovery Function supports DOC, BMP, AVI, CDR, XLS, DBF, DXF, and many other disk formats.
Wise Data Recovery
A free data recovery software, Wise helps you retrieve deleted documents, photos, emails, videos, etc. from your removable or local drives.
Solve all your data loss problems with this software. So, whether you lost any files, deleted files accidentally, faced a system crash, or formatted a drive, don't panic.
Key Features
The software retrieves lost files from USB drive, external hard drive, hard drive, memory card, digital camera, MP3 player, mobile phone, and other storage media.
It supports to recover data from NTFS disk, exFAT, FAT (FAT12, FAT16, FAT32).
Additionally, the software saves you time as it scans in seconds. All you need to do before scanning is to select your recovery file type in keywords to narrow down search results.
UndeleteMyFiles Pro
This free data recovery software is quick and easy way to find and recover deleted media and digital devices for free.
Key Features
Its File Rescue Wizard quickly recovers deleted files, while several specialized filters allow you to find specific deleted information.
UndeleteMyFiles has a Files Wiper to help you delete selected files permanently, leaving no scope of recovery.
So, go ahead and recover accidentally deleted files from USB flash drives, hard disks, CF, and SD cards and other storage media.
TestDisk
A powerful data recovery software apt for Mac, Windows, and Linux-based PCs, TestDisk helps you recover lost partitions from several file systems such as BeFS, Linux RAID, FAT12/16/32, BSD, NTFS, CramFS, HSF, and many more.
Key Features
Moreover, this freeware features a user-friendly interface to make it easy for beginners as well as expert users.
Besides recovering lost partitions, TestDisk also make non-booting disks bootable again.
Fix partition table, recover deleted partition, and fix FAT tables and MFT with this software.
Undelete360
As the name suggests, Undelete360 recovers all files that you accidentally removed from your computer, digital camera, flash drive, memory card, Recycle Bin, etc.
Key Features
Undelete 360 is a free tool that has the "Recover Files" tool. So, for those of you wanting to get back your deleted files, simply stay on this tab to highlight the disk drive, and then start searching.
Another interesting tool the software includes is a "Wipe Files" tool that helps you securely delete files beyond recovery.
Undelete 360 has a blue theme and ribbon-style toolbar to remind you about a Microsoft Office application.
FreeUndelete
Use this free data recovery program to recover files that get accidentally deleted on FAT32 and NTFS file systems.
Key Features
This software holds the ability to restore deleted files, including the files removed from Windows Recycle Bin.
The data restoration process doesn't require any special knowledge or training. In fact, data restoration through FreeUndelete software is a fully automatic process.
With the software's search tool, you can instantly filter the results. These results can be sorted by the file name, size, date created, extension, folder, date modified, and recoverability status.
CD Recovery Toolbox
Designed to recover data from damaged CDs, DVDs, Blu-Ray, etc., the CD Recovery Toolbox Free tool is a user-friendly and convenient data recovery option.
Key Features
With its complete set of data recovery features, the software scans CDs and DVDs to find folders and files located there.
If CDs, DVDs are smudged, scratched or faded, and there's still some readable data available on the disk, this is the tool that brings back as much data as possible.
The software is free and can recover files even larger than 4 GB.
Restoration
This small, free file recovery software is simple and user-friendly. The software undeletes files that were removed from either the recycle bin or directly deleted from within Windows.
Key Features
Unlike other software, this data recovery software requires no installation. Instead, it requires a simple click on the .exe file.
Once you start, you can quickly scan for all files that may be recovered. Also, use the software to limit the results by entering a search term or extension.
Ideally, Restoration is a standalone software that works with NTFS and FAT as well as digital cameras cards.
---
Lazesoft Recovery Suite Home
Using this software, back up your entire hard drive and essential files, and then restore files from the backup tool when needed.
The software provides you with a dashboard that offers several options to choose from. Simply burn a CD/USB Backup, complete a Windows Recovery, Disk Image, and Clone, or a Password Recovery.
Key Features
Lazesoft Disk Image and Clone has a Clone, Disk Backup, and Partition Manager.
Use Lazesoft Data Recovery to recover data from damaged, deleted, formatted drive/disk/partition.
Lazesoft Recover My Password allows for Windows Password Recovery.
---
Compatible with Windows, this software can be used as an advanced hexadecimal editor in computer forensics, WinHex efficiently handles data analysis, editing, and recovery.
Key Features
You can also consider it a good option for data wiping, low-level data processing, IT security, and gathering evidence.
Moreover, use this software to inspect and edit all kinds of files and recover lost data or deleted files from hard drives that have corrupt file systems. You can also recover files from digital camera cards using this comprehensive software.
There's more. Use this software to read and edit hard drives, CD-ROMs, floppy disks, DVDs, and other media. The software has an evaluation version that is available for a free trial.
---
A reliable and effective free data recovery software – that's Pandora Recovery for you.
This data recovery software can effectively run on Vista, XP, Windows 8, 8.1, 7, and older versions of Windows.
Key Features
The software's surface scan allows you to recover data from drives that have been formatted.
It can recover hidden, archived, encrypted, and compressed files making it a reliable data recovery software.
With a user-friendly interface, the software provides an explorer-like view that has recovery percentage and color-coded indicators.
Data Recovery Software for Android
EaseUS Data Recovery Wizard Free
Back up your data easily and enjoy a high level of data security with EaseUS data recovery wizard and that too for free.
Key Features
Simply use this software to recover deleted, lost, or formatted data from your PC, laptop, and other removable devices.
Let's say your hard drive gets corrupted and becomes inaccessible. In such a situation, EaseUS data recovery free helps you find that data again.
Let's say your hard drive gets corrupted and becomes inaccessible. In such a situation, EaseUS data recovery free helps you find that data again.
---
Recovering deleted data from digital devices has become quick and convenient with iCare Data Recovery Free software.
Key Features
To quickly recover permanently deleted/erased files from Windows 10/8/7/Vista/XP for free, use this software.
iCare retrieves word files, documents, videos, emails, even audio files from external USB disk, PC hard drive, memory card/USB drive, etc.
iCare software has two versions. While iCare Data Recovery Free has an unlimited data recovery amount, iCare Data Recovery Pro Free can recover 1GB of data for free.
Data Recovery Software for Mac
Recover your lost files with this free advanced file recovery software that rids you of the anxiety caused due to a missing file.
Simply download Disk Drill for free on your Windows 7, 8 or 10 (XP and Vista), and click "Recover" to get all your files back.
Key Features
Disk Drill can accomplish free file recovery from NTFS, FAT32, EXT, HFS+, and other file systems.
Not only this, you can quickly restore music, pictures, videos, documents, and all other lost documents, using this software.
The software has Recovery Vault enabled, which provides you additional protection for all your sensitive locations.
---
A free, open-source file recovery program that is compatible with almost every operating system – that's PhotoRec for you.
Key Features
Use this software to recover data such as pictures, documents, and videos from all devices ranging from hard disks to digital cameras.
This software ensures maximum security by using read-only access to handle the memory card or drive from which you are supposed to recover all your lost data.
The software works on Windows, macOS, and Linux and is a robust recovery platform that is free.
Data Recovery Software for Windows
Stellar Data Recovery Free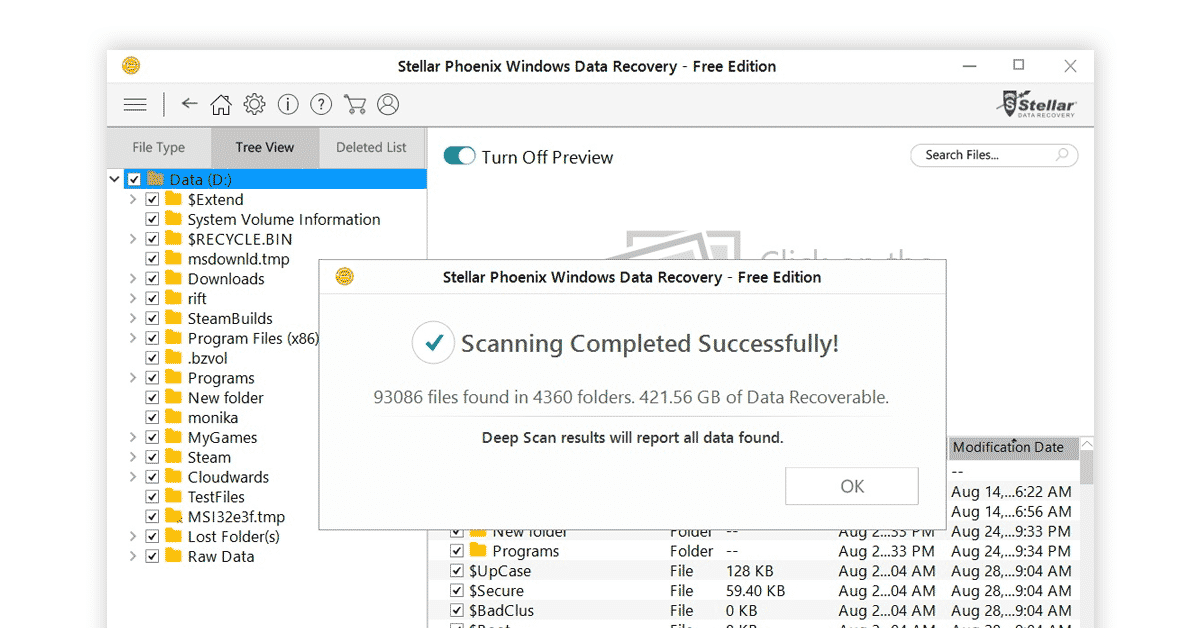 With Stellar data recovery software, you can perform a general search for any deleted file. You can also narrow the field to MS Office documents, photos, emails, videos, etc.
Key Features
Recovers data from any storage device, including memory cards, pen drives, hard drives, etc.
Also, the software recovers for you any deleted, hidden, or lost data from virus-infected storage media, and Windows systems.
Free of cost data recovery software Stellar can quickly recover up to 1GB of lost data from either deleted and formatted or corrupt partitions.
---
MiniTool Power Data Recovery Free
A useful data recovery solution designed to recover all sorts of lost, corrupted, or deleted data, MiniTool Power is compatible with Windows 7,8,10.
Key Features
It can recover data damaged drives, digital media, CD, DVD, corrupted or lost partition, including several other locations.
MiniTool has a colorful and straightforward user interface that supports large buttons for its five modules.
These modules are: Digital Media Recovery, Undelete Recovery, Lost Partition Recovery, CD/DVD Recovery, and Damaged Partition Recovery.
MiniTool Power Data Recovery Free Edition can recover partitions up to 1GB. However, it has paid versions too.
Conclusion
To sum up, data recovery software makes possible the recovery of deleted, corrupted, or inaccessible data from a storage device.
Data recovery software is a must for most businesses these days. Thus, you must look at the list of software provided here to opt for the one that best meets your requirements.
 FAQs
Is Android Data Recovery Free?

Android Data Recovery is an efficient software that is available for free. You can use data recovery software to recover lost contacts, photos, SMS, and other data from an android phone.

Is Recuva free?

Yes, Recuva is amongst the best free file recovery software tools available today.

Name the best free Android data recovery software?

MiniPower Data Recovery Free, Disk Drill, EaseUS Data Recovery Wizard Free, Recuva and UnDeleteMyFiles Pro.

Are data recovery software safe?

Yes, it is safe to use a data recovery software to recover your lost data or files from your computer or any other media storage. However, you should be careful about the software you use.

Where do files go when deleted?

Files moved to the trash can on Mac or the recycle bin on a PC stay in those folders till these folders are emptied by users. Even after these files are deleted from those folders, they are still located in the hard drive. This means that if we use the right data recovery software, we can still retrieve these files.

Will Windows System Restore delete files?

System Restore can easily change all your system files, Windows updates, and programs. However, it does not modify or delete your photos, documents, music, videos, emails, or any other personal files stored on your hard drive.

What is the best free SD card recovery software?

MiniPower Data Recovery Free, Disk Drill, EaseUS Data Recovery Wizard Free, Recuva and UnDeleteMyFiles Pro.

Can I recover raw photos from a corrupt SD card?

Yes, you can easily recover raw photos from SD Card by using either the SD Card recovery service or Stellar Photo Recovery software.

How long does system recovery take?

The complete recovery process can take anywhere between four to six hours. To get fast results ensure that your computer is not connected to the Internet.

Can I recover word documents, PDF, Excel files stored in the SD card?

Yes, a robust data recovery software can easily recover any kind of data from the SD card.